DisruptHR Charleston (SC, USA) will be held on Thursday, November 14, 2019, at American Theater and we're excited to announce an awesome lineup of speakers for their 7th DisruptHR event!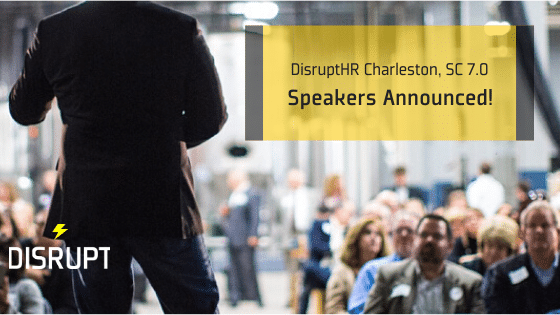 Misty Guinn / @GuinnMisty — Director of Benefits & Wellness at BenefitFocus
"The Evolution of Total Well-Being is Not About Survival of the Fittest!"
Troy Hall / @drtroyhall — Chief Strategy Officer at SC Federal Credit Union
"Engagement is Out; Cohesion is In"
Patrick Bryant / @bpatrickbryant — Founder of Code + Trust
"HR in the Startup World"
Candace Nicolls — SVP or People and Workplace at Snagajob
"Redo Your Workforce"
Micky Kerwick — Founder of MK Metrics
"What Your Meeting Culture Says About Company Culture"
Randi Busse / @RandiBusse — President of Workforce Development Group
"Are Your Employees Checking Out But Still Clocking In?"
RD Weeks — MBSB Coach at RAZ Society
"Getting Out of the Fast Lane of Life"
Jack Liles / @jackliles — Partner at TechCXO
"Top Gun Debriefing and Psychological Safety"
Thomas Heath / @AskThomasHeath — Founder of Thomas Heath Advisors
"Employer Branding on LinkedIn"
Katie Wells — Global Cultural Ambassador at ASM Global
"Are Your Employees Satisfied With Their Job? Too Bad, It's Not Enough!"
Shwetha Pai — CEO and Co-Founder of OrgAnalytix
"Moneyball for Teams – How to See around Corners and Win"
Simone Morris / @simonemorrisent — CEO of Simone Morris Enterprises
"Hey HR: We can't do Inclusion Without You!"
Thanks to DisruptHR Charleston 7.0 Sponsors!