DisruptHR Cedar Valley (IA, USA) will be held on Tuesday, December 13, 2022, at Hilton Garden Inn/Cedar Falls Convention & Event Center and we're excited to announce an awesome lineup of speakers for their 2nd DisruptHR event!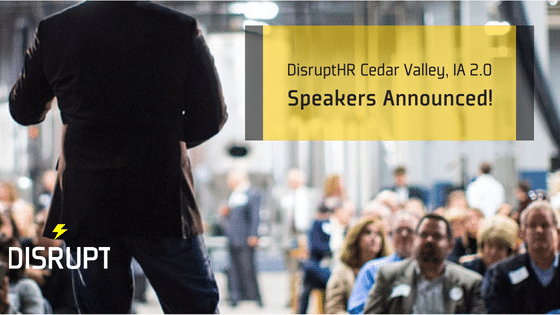 Missy Gearhart — Assistant HR Director at City of Waterloo
"Innovation in the Workplace"
Julie Develin — Sr. Partner, HCM Advisory at UKG
"Invisible In: The Psychological Contract & the Employee Experience"
Mark Oliver — Manufacturing & Distribution Channel Leader at BerganKDV
"Forward looking HR Reporting through Analytics … Finally!"
Dr. Celina Peerman — Organizational Psychologist at The Peerman Group
"Leveraging the Gaps"
Kasara Weinrich — Principal Consultant, Future of Work at ADP
"AI: It's not trying to steal your job, it's giving you a better one!"
Brad Baldwin — Mindfulness Advocate at Aperture
"Defund the [HR] Police"
Jeffrey Welter — Founder and CEO of AlignHRM
"Secrets to Becoming a Better Business Partner"
Jennifer Heller — Consultant at Business Growth Solutions Now
"HR Identity Crisis"
Kyle Roed — VP HR at CPM Holdings, Inc.
"Rebel HR"
Paul DiMarco — VP, Organizational Development at VGM Group, Inc.
"It's What You Didn't Say"
Tara Seible — Founder, CEO of In the Green Marketing
"Recruitment Revival"
Dr. Claire Muselman — Principal, Founder of CM Advising, Drake University
"Executive Presence: It's time we started teaching confidence"
Brooke Kraft — Sr. Talent Acquisition Specialist at VGM Group, Inc.
"Value Alignment as a Talent Strategy"
Burton Kelso — Chief Technology Expert at Integral
"We Need to Redefine the Word Success or We Will All Crash and Burn"
Ed Baldwin — Site HR Director at Cambrex
"Interviews Suck at Predicting Job Success, and what to do about it"
Thanks to DisruptHR Cedar Valley 2.0 Sponsors!