DisruptHR Cedar Rapids (IA, USA) will be held on Tuesday, August 16, 2022, at The Olympic Southside Theatre and we're excited to announce an awesome lineup of speakers for their 1st DisruptHR event!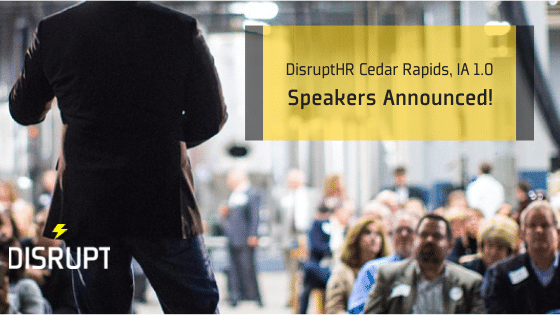 Lynette Hemann, MM-CM, APTD — Support Services Manager at CCR Inc.
"Team Member Engagement – Its Not About The Sprinkles"
Samantha Rogers, SHRM-SCP, PHR — Human Resources Business Director at Skywalk Group
"The Hidden Paycheck"
Anthony Arrington, CDE, CDF, CCA — Consultant at Top Rank Staffing
"Root Issues – When Will We Face Them?"
Bill Humbert — Owner of Provocative Thinking Consulting Inc. aka Recruiter Guy.com
"Delete Recruiting from HR"
Leslie Wright — Founder of Collective Clarity
"The Future Doesn't Exist …and Other Essential Truths"
Dr. Jennifer Murphy — Founder of Dangerous Leader Group, LLC.
"Unlocking Intrapreneurship"
Dr. Karen Reynolds — Chair of International/MultiCultural Student Education Committee at Hawkeye Community College
"OffBoarding"
Jackie Pelland — Partner at Slingshot25
"Stop Killing Accountability"
Daniel Vent, MBA, PHR — Founder & Principal Recruiter at Intraview
"The Perfect Candidate"
Dr. Celina Peerman — President of Peerman Group
"Ready, Set, Disruptions Happen"
Michelle Gnida — Area Manager & Master Trainer at Dale Carnegie
"Got Moxie?"
Thanks to DisruptHR Cedar Rapids 1.0 Sponsors!