DisruptHR Capital Region (NY, USA) will be held on Thursday, October 17, 2019, at Revolution Hall and we're excited to announce an awesome lineup of speakers for their 1st DisruptHR event!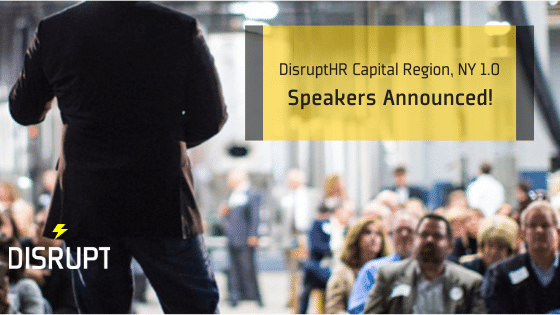 Stephanie Bergman / @Stephanie_P_B — Principal, Future of Work at ADP
"Beyond Gamification: What HR can learn from video games"
Jennifer Bashant / @BBFUTURES — CEO of Building Better Futures
"Building a Culture of Connection"
Tara Clancy / @o2TaraClancy — Speaker, Author, Sleep Specialist at o2Tara
"The Untapped Ingredient of the Employee Retention Recipe"
Lauren Groff / @groffnetworks — Founder & CEO of GroffNetWorks
"Lessons About the Workplace from an Intrepid Entrepreneur"
Patrick Longo / @patricklongo — Founder & Managing Partner at Upaya Partners
"Inoculate Your Company From the Just Disease"
Brian Rollo / @Brian_Rollo — Workplace Culture Consultant, Leadership Expert, Speaker at Brian Rollo Consulting Group
"No One Cares About Your Leadership Style: How to Really Influence People"
Miranda VonFricken — Talent & Culture Leader, Career Coach, Host of #LinkedIn Local, MVF Coaching and Consulting
"Crazy. Sexy. Talent.: Tapping Into the Multi-Passionate Employee"
Thanks to DisruptHR Capital Region 1.0 Sponsors!