DisruptHR Calgary (AB) will be held on Monday, November 4, 2019, at Calgary Public Library and we're excited to announce an awesome lineup of speakers for their 8th DisruptHR event!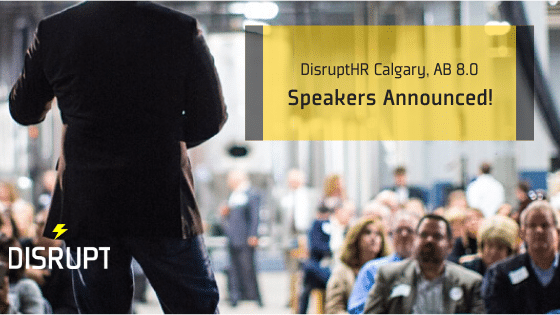 Aaron Barth / @AaronBarthPhD — Founder & President of Dialetic
"Employee Surveys Are Dead!"
Marcie Hawranik / @MHawranik — Founder & President of Canadian Equality Consulting
"The ROI of EDI (Equity, Diversity & Inclusion)"
Stephen Torcsher / @CalgaryHRLaw — Partner at Miller Thomson LLP
"A Lawyer And A Math Nerd Get Ahold Of Data From 3000 Wrongful Dismissal Cases… You Won't Believe What Happens Next"
Denise Chartrand — President of Think Craft
"Collaboration: Learning to Speak the Same Language"
Dr Caroline Brookfield / @artfulsciences — Public Speaker at Artful Science
"Creativity: The Secret Sauce For The Future Of Work"
Kelly Plourde / @KellyPlourde1 — Director Talent Acquisitions at FYI Doctors
"I Was Fired On Maternity Leave"
Tim Borys — Author, Speaker, Coach, CEO of FRESH! Wellness Group
"The Death of Corporate Wellness & The Healthy Workplace of the Future"
Dasa Chadwick — Leverage Point Learning
"Harnessing The Power of Politics"
David Savage — Negotiation, Dispute Resolution and Collaboration Coach, Consultant, Speaker and Author at Savage Management
"Leading With Positive Conflict Resolution: Don't Be An ACE Hole!"
Lori Dyne — Vice President, Marketing & Communications at Optimum Talent
"Revolutionizing How Organizations Exit Employees"
Susy Ko / @ColourGap — Co-Founder and Shahzia Noorally / @ColourGap — Co-Host of The Colour Gap Podcast
"HR, We Have A Problem"
Jen Perrault / @jen_perrault — HR Manager at Strategic Group
"Cognitive Dissonance And Ellen DeGeneres"
Thanks to DisruptHR Calgary 8.0 Sponsors!