DisruptHR Bristol (UK) will be held on Tuesday, February 26, 2019, at OVO Energy and we're excited to announce an awesome lineup of speakers for their 1st DisruptHR event!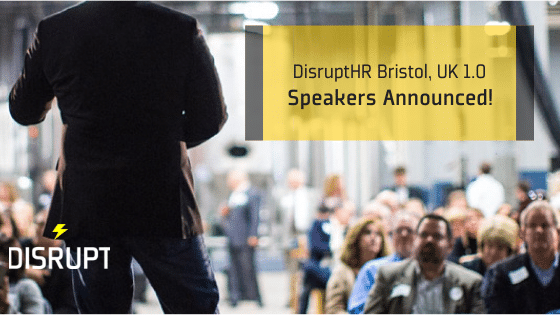 Jane Graham /@janeneggy — Head of Resourcing at Somerset Partnership NHS Foundation Trust & Taunton and Somerset NHS Foundation Trust
"Non-boarding!"
Katrina Collier /@KatrinaMCollier — Social Recruiting Trainer at The Searchologist
"Candidate First: Robot-Proof Recruiting"
Amanda Arrowsmith /@Pontecarloblue — Interim Head of HR at Thales
"Help! …I'm Surrounded By Corporate Heroes!"
Helen Tanner — CEO of Data Cubed
"HR & AI – What's The Future?"
Mark Beavan /@markjbeavan — Head of Agency at That Little Agency
"What Job Seekers Are Looking For In Your Careers Website"
Jo Thresher /@JothresherJo — Founder of Better With Money
"We'd Rather Talk About Sex Than Talk About This…"
Helen Mortimore /@helenmortimore4 — Senior Lecturer in HRM at UWE
"Generation Z HR"
Alex Moyle /@Alex_Moyle — Co-Founder of Nurtureit
"How HR Can Influence Sales Culture"
Jo Menon /@jojomenon — Interim HR Programme Manager
"Why Sitting All Day Is Killing HR"
Lee Burman /@leeburman — Talent Acquisition Manager at Europe at A-Gas
"Nobody Gives A Cr*p About Your Company!"
Glyn Blaize /@Blaized — Founder of Northstar Innovation Group
"In Control Of Your Destiny, a New Kind of Appraisal"
Kim Atherton — Chief People Officer at Ovo Energy & Co-Founder at just3things
"The Hierarchy Is Dead (Long Live the Hierarchy)"
Monika Chauhan-Stok /@monikastok — Managing Director at Crossroads Global
"Designing Inclusive Cultures For High Performing Teams"
George Bell — Co-Founder of on:song
"To Be Announced"
Thanks to DisruptHR Bristol 1.0 Sponsors!