DisruptHR Boston (MA, USA) will be held on Wednesday, November 6, 2019, at Ned Devine's and we're excited to announce an awesome lineup of speakers for their 4th DisruptHR event!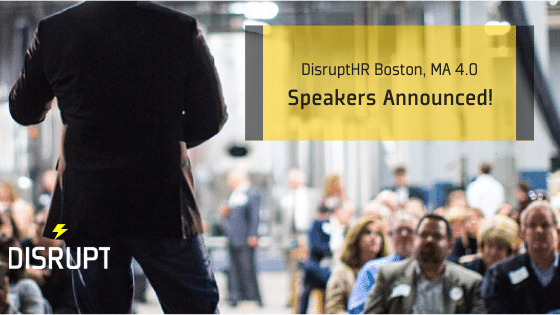 Jon Greenawalt / @Greenawalt — Chief Culture Officer at SharkNinja
"Supercharging Talent Development"
Tracie Sponenberg / @traciespon — SVP, HR at The Granite Group
"Bringing Sexy Back – To Toilets (branding a small, unknown, decidedly unsexy business as a best place to work"
Morgan Frank / @mrfrank5790 — Postdoctoral Research Fellow at MIT
"Embracing Complexity in the Future of Work"
Maureen Crawford Hentz — VP, HR at A.W. Chesterton Company
"Accomodations In The Interview Profession For candidates On The Apectrum"
Sam Davis — Partner at Camden Consulting Group, a division of Keystone Partners
"When Did We Get So Serious? Why A Little Bit Of Fun Goes A Long Way To Keep Employees Happy, Engaged And Not Walking Out The Door"
Cecile Alper-Leroux / @cecilehcm — VP, Human Capital Management Innovation at Ultimate Software
"Workforce Fluidity & How to Prepare for it"
Stephanie Lucey — CPO at Bottomline Technologies
"The Candidate Experience – Simple Ways to Reenergize Your Candidate Experience While Getting Buy In From Your Leaders"
Lisa Prior — Principal at Prior Consulting
"How Hollywood is Killing HR"
Georgette Verdin — CHRO at AVROBIO
To Be Announced
Mark Lockett — Commercial Leader focused on Talent Development
"Breaking Out"
Thanks to DisruptHR Boston 4.0 Sponsors!