DisruptHR Bismarck (ND, USA) will be held on Wednesday, October 9, 2019, at Black Leg Ranch and we're excited to announce an awesome lineup of speakers for their 1st DisruptHR event!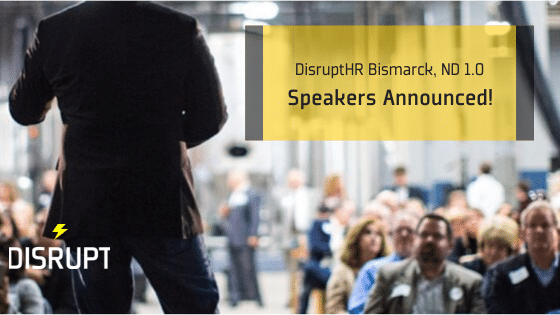 Jeanne Masseth — CEO of Legacy Talent Development Inc.
"10X Growth: The Power of Peer Groups at Work"
KrisAnn Norby-Jahner — Attorney at Vogel Law Firm
"Get out Your Fall Clean-Up Checklist: Top 5 Management Missteps to Sweep Away"
Margie Gray — Employment Services Director at Mindshift
"Neurodiversity as a Competitive Advantage"
Patrick Metzger / @_PatrickMetzger — Life and Health Coach & Speaker at Patrick Metzger
"Own You: Taking Back Control of Your Life, Health & Wellness"
Elliot Rust — Chief Financial Officer at Bismarck Mandan Chamber
"Dual aspects of HR in a small business"
Raquel Nachatilo — Human Resource Director at Missouri Valley Family YMCA
"How to Build an Award-Winning Culture on a Non-Profit Budget"
Dave Leingang / @DaveLeingang — Business Owner of Exploring Leadership Soulutions
"The Benefits of Leadership Training"
Angil Wanner-Koper — Sales and Marketing Specialist at Braun Intertec Corporation
"Mentoring Outside The Box!"
Stacey Sturm / @URLradio — Owner of URL Radio
"Internet and Social Media Marketing Should Never Be an Accident"
Lisa Feldner — Principle Consultant at Olson Effertz Executive Search & Management
"Talent Acquisition – Who's Left?"
Becky Sicble — HR & Leadership Consultant & Coach
"Want better hires? Conduct better interviews"
Erin Hill-Oban — State Senator, Non-Profit Manager, Educator, Working Mom
"Be an outlier."
Thanks to DisruptHR Bismarck 1.0 Sponsors!