DisruptHR Winnipeg (MB, CA) will be held on Friday, May 10, 2018,  at The Pyramid Cabaret and we're excited to announce an awesome lineup of speakers for their 3rd DisruptHR event!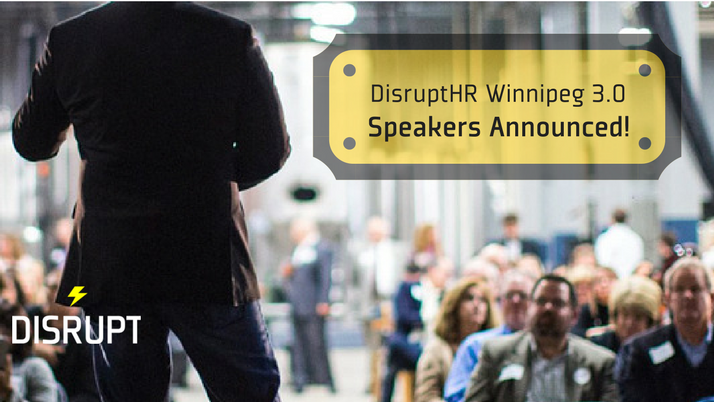 Chad Morton –Learning and Development Specialist at Bison Transport Inc.
"Tales from the Emerald City – Leadership from the Wizard of Oz"
Ryan Caligiuri — Sales Development Specialist and Marketing Manager at ID Fusion / Ryan Caligiuri International
"Don't Pull The Plug. Leave It Alone."
Chris Hall — Founder of The Portal
"The Portal Report"
Kim Hunter — Senior HR Consultant at People First HR Services
"#METOO – No, Thank you!"
Rob Read — Founder of Bison Fire Protection Inc.
"People Process Tools"
Jaysa Toet — Partner at Acuity HR Solutions
"Reclaiming HR's Reputation: Breaking Stereotypes & Building Credibility"
Christina MacIsaac — Employee Success and Experience Consultant
"What's Gotten India? Diverse Experiences Enhance Your Team."
Abraham Daniels — Consultant at Deloitte
"Work in the 4th Industrial Revolution"
Tanya Clarke Marinelli — Partner MA, CMed at Facilitated Solutions
"What To Do When Problem Solving Is The Problem"
Greg Wood — Professional Speaker and Entertainer at The Magic of Leadership
"Everyone Communicates, Few Connect"
Hendrik Steenkamp — Director, HR Advisory  at ADP Canada
"Wild Hearts Can't Be Tamed!"
Thanks to DisruptHR Winnipeg 3.0 Sponsors!