DisruptHR Barbados (BB) will be held on Tuesday, March 24, 2020, at Mount Gay Visitor's Centre and we're excited to announce an awesome lineup of speakers for their 1st DisruptHR event!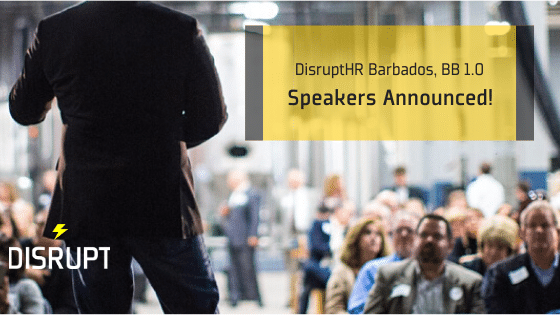 Ashish Uttanchandani / @ashi_u — CEO of Unified Networking Development Systems Limited
"Intrapreneurship in Big Corp."
Charlene Pedro — CEO of Conventus Consultinc
"Your'e Fired!"
Cheryl Gittens — Transformation Coach at Connect With Your Passion Coaching
"P" In the morning"
Dario Richards — Co-Founder/Growth Strategist at Inspire Leadership Solutions Group
"Team Work Does Not Make the Dream Work"
Gerorgina Naigaga — Program Director-Corporate at Surfside Wellness Centre
"Are We Insane"
Geri-Ann Austin — Director, Talent & Culture at Fairmont Royal Pavilion
"StopTesting, Start Investing"
Jacqui Archer — CEO of Saville Assessments Caribbean
"AI, Analystics, Algorithims and HR"
Jay Guilford / @JayGuilford2 — Leadership Coach and Corporate Trainer at CoWorks LLC
"It Takes a Village: Strategies to Address Bullying and Other Toxic Workplace Behaviours"
Jarrod Best-Mitchell / @workjarrod — Enthusiast at Help me sell
"Surfing in the LinkedIn Sea"
Jennifer McClure / @JenniferMcClure — CEO of Unlimited Talent & Disrupt HR
"Prepare for Impact! – 5 Superpowers HR Leaders Must Develop toThrive in the Future of Work"
Julie Turney / @iamjulieturney — HR Manager at Hyuna International Ltd.
"The Future of HR is Agile"
Kelly-ann Bethel / @KelzBethel — CEO, Founder of Skedonline
"Let's E.A.T. (Engage. Adopt. Technology)"
Khadija Moore / @MooreKhadija — Organizational Development Manager at Blue Diamond Resorts
"Every Day is a School Day"
Marjorie Wharton / @MarjorieWharton — Director – Strategic Business Services at Cave Hill School of Business
"Stop Hiring Clones"
Natasha Joseph — Health, Safety and Environmental Advisor at Sol Caribbean Ltd.
"HR in Crisis"
Ron Johnson / @ronjohnsonbb — Co-founder, Managing Director at Blueprint Creative
"HR Professionals "Bhranding" Superheroes in Disguise"
Terisha Logie — Group Human Resources Supervisor at C.O.Williams Construction Group of Companies
"If It's Not Documented it Did Not Happen"
Thanks to DisruptHR Barbados 1.0 Sponsors!